XEBEC Burrless Chamfering Cutter™

Burrless chamfering with a patented, multi-blade, V-shaped design

Applicable equipment
This tool can be mounted on equipment shown below:
Machining center

Turn Mill Machine

Lathe (no live tooling)

Special machine

Robot

Rotary tool
(electric)
Rotary tool
(pneumatic)
Features
Patented V-shaped blade design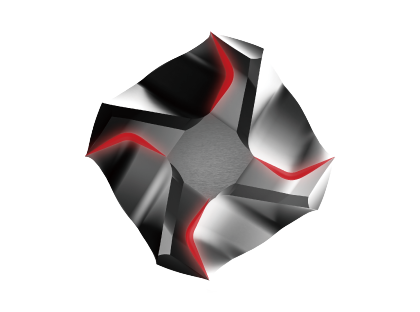 Unique design cuts a finished chamfer without secondary burrs. This eliminates the need for another deburring process.
Twice longer tool life than a conventional chamfering cutter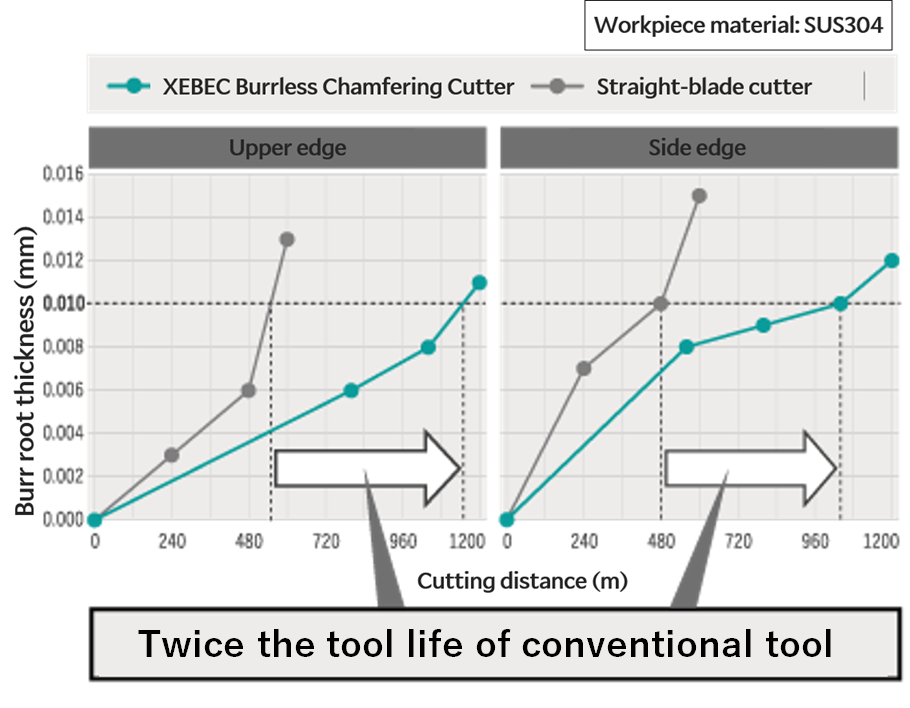 Tests have shown that the tool life of this cutter is at least twice as long as that of a conventional chamfering cutter.
Multiple blades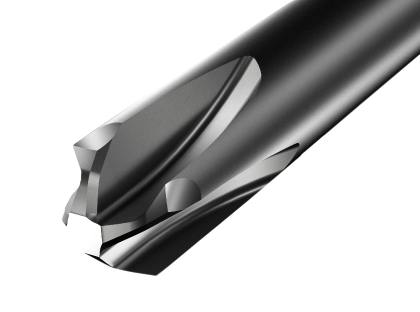 Multi-blade design enables high feed rate. This reduces machining time for more efficient chamfering.
Flat tip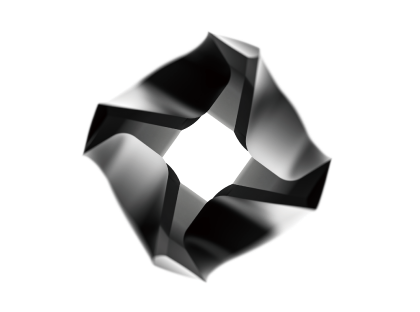 Ensures positional accuracy. The flat tip design prevents rounding and chipping that may cause tool length measurement errors.
Specifications
AlTiCrN coated
Applicable materials: Steel P, stainless steel M, cast iron K, heat resistant alloy S, nonferrous metal N
Product code
Chamfering alignment diameter Dc
(mm)
Shank diameter Dcon
(mm)
Overall length LF
(mm)
Neck length L1
(mm)
Maximum depth of cut
APMX (mm)
Cutting angle
KAPR (deg.)
Number of blades
Target chamfering size
Fig
XC-C-03-M
φ2
φ6
50
5
1
45
3
C0.3 – C0.6
18
XC-C-06-M
φ4
φ6
60
–
2
45
4
C0.7 – C1.5
19
Uncoated
Applicable materials: Nonferrous metal N, Resin O
Product code
Chamfering alignment diameter Dc
(mm)
Shank diameter Dcon
(mm)
Overall length LF
(mm)
Neck length L1
(mm)
Maximum depth of cut
APMX (mm)
Cutting angle
KAPR (deg.)
Number of blades
Target chamfering size
Fig
XC-C-03-N
φ2
φ6
50
5
1
45
3
C0.3 – C0.6
18
XC-C-06-N
φ4
φ6
60
–
2
45
4
C0.7 – C1.5
19
Fig. 18

Fig. 19

Related links